Accommodation
Freiburg Convention Bureau has reserved room contingents for conference participants in various hotels as shown on the map below. Please make your reservation as soon as possible online using the following link, as the available rooms are limited.
room bookings via Freiburg Convention Bureau


For requests regarding your booking please contact:
Freiburg Wirtschaft Touristik und Messe GmbH & Co. KG
Freiburg Convention Bureau
Kerstin Schultheis
Neuer Messplatz 3
79108 Freiburg
Tel.: +49-(0)761-3881-1444
E-Mail:
Alternatively to the online booking you can use the hotel booking form for room reservation.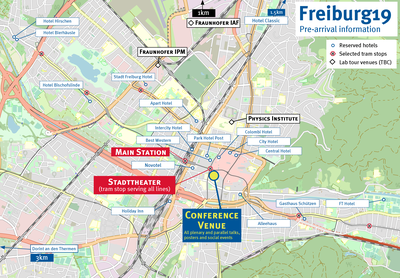 map as download
In addition, you will find below some inexpensive accommodation options where no contingents have been reserved for the participants.


StayInn https://www.stayinn-freiburg.de/de/
H41 Inn Hostel: https://www.hostel-freiburg.eu/
Black Forest Hostel: https://www.blackforest-hostel.de/
Hotel Hirschengarten Freiburg: https://www.hirschengarten.de/
Ibis Budget https://www.accorhotels.com/de/hotel-2656-ibis-budget-freiburg-sued/index.shtml
B&B Freiburg Nord: https://www.hotelbb.de/de/freiburg-nord
GreenCity Boarding House: https://rp.greencity-boarding.de/
B&B Hotel Freiburg Süd https://www.hotelbb.de/de/freiburg-sued
Caritas Tagungszentrum https://www.caritas-gaestehaeuser.de/hier-finden-sie-uns/freiburg/freiburg
The Alex Hotel: https://www.the-alex-hotel.de/de/