Welcome to Freiburg
Conference Venue
Albert-Ludwigs-Universität Freiburg
Universitätszentrum
Platz der Universität 3
79098 Freiburg
The conference is being held in university buildings which surround the Platz der Alten Synagoge in the centre of Freiburg. The plenary talks will take place in the Kollegiengebäude II (KG II), with contributed talks being held in KG I, KG II and KG III. The industry exhibition and the poster sessions will be held in tents on Platz der Alten Synagoge itself. A dedicated Science Lounge is available in Peterhofkeller (PH), this is intended as a place for informal discussions.
Further information regarding the conference venue can be found below as well as in the menu to the left.
Albert-Ludwigs-Universität Freiburg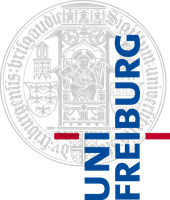 The Albert-Ludwigs-Universität Freiburg was founded in 1457 and is one of the oldest comprehensive universities in Germany. More than 24,000 students  are enrolled at the eleven faculties with a total of over 180 study courses.
The conference takes place within the buildings of the main campus (Humanities) in the city centre.
University Freiburg, Entrance KG I (© Sandra Meyndt / Universität Freiburg)
Platz der alten Synagoge with KG I (© Sandra Meyndt / Universität Freiburg)
University Library with Platz der alten Synagoge (© Sandra Meyndt / Universität Freiburg)
The city of Freiburg
The capital of the Black Forest region, which was first mentioned in 1008, is one of the most popular tourist destinations in Germany. The historic old town offers sightseeing opportunities and places of interest, especially the Münster and the Freiburger "Bächle" (small streams running throughout the city). On top of this, important museums, small shops, cafes and restaurants mean that Freiburg is attracting an increasing number of visitors.
Martinstor (© Joachim Hirschfeld / Universität Freiburg)
Freiburg Old Town Hall (© Joachim Hirschfeld / Universität Freiburg)
With 227,940 inhabitants (as of 2017) Freiburg is the fourth city in Baden-Württemberg (behind Stuttgart, Karlsruhe and Mannheim).
Freiburg as an economic and scientific centre
Freiburg is a regional economic centre, dominated by the service sector and public services. The largest employer in the city is the University together with the University hospital, followed by numerous regional and sub-regional authorities. Due to the proximity to the university, many smaller companies from the fields of solar technology, information and media technology plus medical and biotechnology are based in Freiburg.
Thanks to 1,800 hours of sunshine per year and its nearly Mediterranean flair, Freiburg offers ideal conditions for the use of solar energy. Very early the city recognized the potential of solar energy for climate protection, the economy and urban development.
The five Fraunhofer Institutes in Freiburg develop technologies for numerous applications in the fields of energy, safety, communication, environment, health, productivity and mobility. With about 2,500 employees, Freiburg is Fraunhofer's main location in Germany.
With approximately 11,500 employees the University Hospital Freiburg is one of the biggest university hospitals in Germany. About 1,300 physicians and 2,900 nursing professionals provide in-patient to about 69,900 patients per year, and out-patient care to around 837,000 visitors.
Information about Freiburg can be found at:
Tourist Information am Rathausplatz
Rathausgasse 3-4
79098 Freiburg im Breisgau
Tel. +49 (0) 761/3881-880
Fax +49 (0) 761/3881-1498